Cerebral Palsy Specialist and Orthopedic Surgeon in Allahabad, Uttar Pradesh, India
Dr. Jitendra Kumar Jain
Cerebral Palsy Specialist & Pediatric Orthopedic Surgeon in India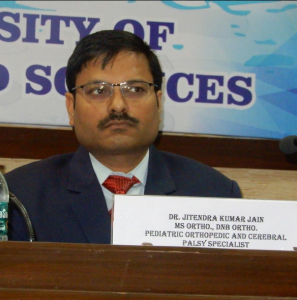 A Medical Graduate Dr. Jitendra Kumar Jain Cerebral Palsy Specialist & Orthopedic Surgeon in India, attained his Post Graduate Degree, MS Orthopedics from Post Graduate Insitute of Medical Research (PGIMER), Chandigarh & DBN in orthopedics during his senior residency at Govt. Medical College Chandigarh. He devoted himself to managing all challenging orthopedic issues related with early childhood especially cerebral palsy for last 15 Years. He had Experience of managing more than 5000 children with cerebral palsy & orthopedic problems. He is also Secretary & founder trustee of Samvedna since its formation (20th December 2005).
Dr. Jitendra Kumar Jain visited all over the country, attend conferences(60), advanced training programs in India and abroad(30) & organized awareness camps (142 in 12 states), conferences, workshops & CMEs(22) & press meets. These approaches helped aware famalies with special children about the disability their children have and also give them direction to the right treatment. Managing all these activities without any support from any NGO or Governmental funding agency highlights his selfless service to the society.
He has also contributed to the academic arena by delivering lectures (62) on different aspects of pediatric disability & cerebral palsy in more than 50 states, national & international academic meetings, in conferences and publishing research papers in reputed journals & health magazine.
The services of Dr. Jitendra Kumar Jain to society have been duly appreciated. The awards conferred on him includes Dr. Bhagwan Das Memorial Award (2001), Prayag Gaurav Samman (2011, 2015 & 2016), felicitation by University of Allahabad on 26th Jan 2016, State award by Government of Uttar Pradesh for his individual efforts in 2014 as well as to Samvedna in 2012 along with various other awards. His mission for social contribution is already being recognized in most of the national print, electronic & social media. He has devoted his personal & professional life to fulfill his dream of making a "Trishla CP Village" in which class rehabilitation can be provided to children affected by any kind of locomotors disability.